Agile Medical Device Development

with Innokas MedTech Design Studio
Design and product development expertise dedicated to medical devices and co-creation, from early concept clarification phase to high-quality design, prototyping, commercial product and cost-efficient manufacturing.

Since 1994 we have specialized in medical technology services. Throughout these years our service offering has covered all the aspects of medical device product development, from the early product idea enrichment phase through device development and project implementation to transfer to production, and has always been tailored to meet our customers' specific requirements.
Through digitalization and fast technological development the operating environment as well as medical products and services itself are getting more complex at the same time when user experience and safety issues are being emphasized – it is clear that next generation medical products and services cannot be developed without co-creation and well-thought, modern design methods, tools and processes.
Innokas MedTech Design Studio's view of Medical Device design and development utilizes Design Thinking, Lean Start-Up and Agile methodologies in our controlled design processes, which we have built to be compliant with current medical device quality standards, regulatory requirements and directives (e.g. ISO 13485, FDA CFR 21 part 820.30 and MDD/IVD/AIMD).
Innokas MedTech

Design Studio Offering
Innokas Medical has created well-defined and structured service packages, which are designed and targeted for each product development phase.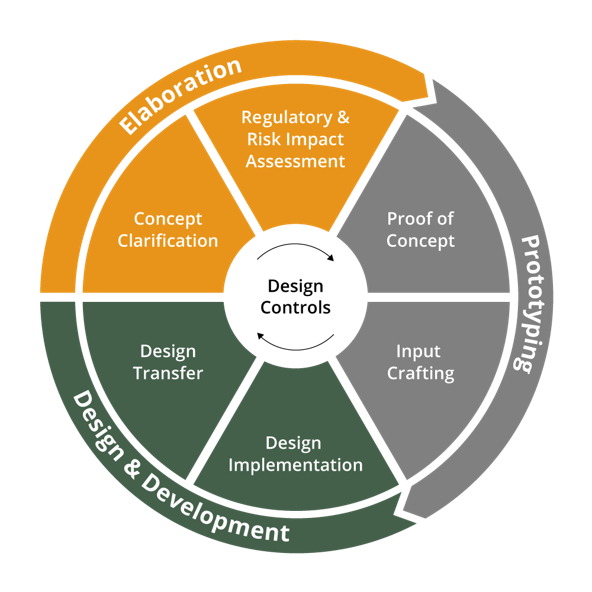 The specific ingredients of each package below:
DESIGN CONTROLS
No matter if your product is just taking shape or it has been sold for several years, we help you to establish effective design controls, which fulfill the regulations.
CONCEPT CLARIFICATION
Saving your time and money by professionally evaluating and visualizing the success potential of your idea and creating a full understanding what your product requires.
Develop a deeper understanding of end-user needs, their priorities and technical challenges.
Create a roadmap for turning the feasibility phase results into a finished product.
REGULATORY & RISK IMPACT ASSESSMENT
Helping you to ensure the safety and effectiveness of your medical product by defining the requirements to your target markets with clear vision of risks.
Ensure the safety and effectiveness of your product according to ISO 14971 – application of risk management to medical devices – standard.
Succeed in your medical device & IVD regulatory approvals with Innokas' long-term and hands-on experience.
PROOF OF CONCEPT

Building confidence and confirming your solution with iterative prototyping and testing.
Mitigate the technical unknowns and utilize our in-house sourcing and manufacturing experience.
INPUT CRAFTING

Reducing your product time to market with properly defined requirement specification and with carefully created roadmap to finished medical product.
Careful and comprehensive formulation of Design Inputs.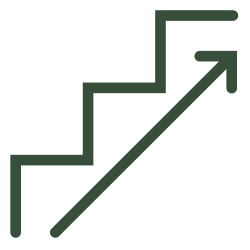 DESIGN IMPLEMENTATION

Saving your time and money by developing a product that meets all the needed requirements in target markets and can be manufactured cost-efficiently.
Cost-efficient prototyping in real manufacturing environment, including feedback on manufacturability and component selection.
DESIGN TRANSFER

Reliable and predictable design transfer to high-quality manufacturing with our in-house engineering, sourcing and manufacturing experts.
All in-house services offer insight and guarantee smooth design transfer for pilot-series and production ramp-up.
Innokas MedTech Design Studio

Locations and Competencies
Innokas MedTech Design Studio

– Locations and Competencies
Over 60 professional design resources
Sister company Cubist IT in Sweden
Development projects according to ISO 13485 QMS and FDA QSR
Technical file (DMR, DHF) according to MDR / IVD / AIMD
Application life cycle management throughout the development project for full requirement traceability
Understanding EU harmonized and FDA recognized standards
Quality and Risk Management expertise
Regulatory intelligence and submission experience
Our highly skilled engineering team includes all the necessary competences of product development, such as electrical and mechanical engineering, software development, industrial and usability design, prototyping, verification and validation as well as quality, risk and project management.
Project Management
On-target project implementation
Agile execution and tooling
Following FDA-requirements
Following ISO 13485 requirements
Design for Excellence (DfX)
Software Development
According to IEC 62304
Embedded SW
User interface
SW testing, automated testing
UX and UI development
IoT and connectivity
Data analytics and AI/machine learning
Electrical Engineering
Real-time control boards, Digital IC design
Power electronics, high voltages
Design for EMC
Interfaces eg. wireless, USB, LAN
Battery technology, charging algorithms, wireless charging
Mechanical Engineering
3D Modeling
Complex plastic and metal design
Movements, mechatronics
Touch screen integration
Simulations
Rapid prototyping
DfA, DfC
Design Controls
Ensuring compliance throughout the product life-cycle
Usability Design
According to IEC 62366
Focus on usability and ergonomics
User interface and industrial design
Integrated design of system, electronics, mechanics and software in-house at Innokas – seamlessly working complete device efficiently!
Finding new partner to develop your medical innovation to the market? Choose the most optimal one providing most value to your business!

If you are finding a partner to cooperate with, it cannot be stressed out too much that it really matters which kind of co-creation partner you choose to design and develop your medical innovation to the market. The domain specific expertise and related competences of your partner is something that really matters: choose the one with more clearer benefits and more added value for your business.
We see that it is also very important that your partner is able to show you in a concrete way how they can help you to solve your problems and how they can improve your company's business situation. As an example, please see below a framework we've created to illustrate that.
This framework illustrates the additional benefits Innokas' MedTech Design Studio is able to offer to customers through our domain specific expertise and related competences. We think this kind of illustration is an ideal way to visualize the added value and concrete benefits the partner can offer through its expertise besides the core solution. The base for this is, of course, the co-creation, where you select the partner you need in order to ensure the needed expertise is available when you're designing and developing new innovations.
Additionally, our comprehensive and scalable service portfolio – which makes us unique – is one of our cornerstones. It spans over the entire product life cycle. Our cross-functional team ensures seamless progress from idea to design implementation, then through design transfer to manufacturing and finally to life cycle management. Early involvement of Design Studio, Manufacturing Operations and QA&RA guarantee that all the quality and regulatory requirements as well as design and manufacturing needs are covered. This speeds up the time to market launch and reduces the total cost.
Do you want to hear more or discuss with our professionals? Let's talk! Click here to leave us your message, and we will get back to you shortly!